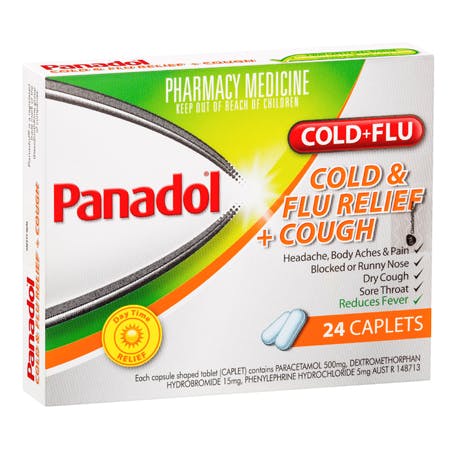 Adult Panadol
Panadol Cold & Flu Relief + Cough
Panadol Cold & Flu Relief + Cough has the trusted pain relief of the Panadol brand with the added benefit of other ingredients, to provide respite from the symptoms of a cold or flu.
Panadol helps relieve body aches and pains, a fever and sore throat, while the added decongestant helps ease a runny or blocked nose. We've also added a cough suppressant to help ease your dry cough, so you can feel better, sooner.
What does it relieve?
Fever
Headaches
Blocked or Runny nose
Body Aches and pain
Sore Throat
Dry cough
What's the format?
Caplet
What are its features?
Cough and Cold Relief
What are the ingredients?
Each Caplet contains:
500mg Paracetamol
5mg Phenylephrine Hydrochloride
15mg Dextromethorphan Hydrobromide
Place caplet(s) in mouth and swallow with water

Dosage
Age Take How Often 12-Adult 2 Caplets every 4-6 hours as necessary, taken with water (maximum 8 caplets in 24 hours)
DISCLAIMER
ALWAYS READ THE LABEL. Use only as directed. For the temporary relief of cold and flu symptoms. If symptoms persist see your doctor.
Further Information
Suitable for people with stomach ulcers
No gluten or lactose
Non Drowsy
Enquiries
If you would like any further information regarding Panadol products, please call our INFOLINE (Freecall) Australia on 1-800-028-533