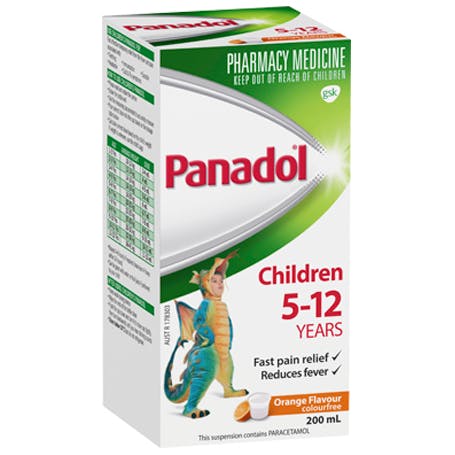 Children's Panadol
Children's Panadol Colourfree Suspension
5-12 Years
Nothing starts to work faster on fever. Choose Panadol Colourfree Suspension for effective, temporary relief from fever and pain in children aged 1-12.
Compare similar products
Where to buy
Watch the video
What does it relieve?
Fever
Teething
Immunisation
Earache
Headache
Cold & Flu symptoms
What's the format?
Suspension
A suspension consisting of undissolved particles of one or more medicinal agents mixed with a liquid vehicle for oral administration.
What are its features?
Fast relief while being gentle to little stomachs
Other features:
Colourfree | Great NEW flavours – a choice of Strawberry or Orange | PET bottle with neck insert for easy dosing (BPA free) | Accurate, easy dosing device | Sugar free | No artificial colours
What are the ingredients?
Active ingredient: Paracetamol 24 mg/mL
Excipients: Maltitol solution, Sorbitol solution (70 per cent) (non-crystallising), Water – purified, Carbomer 934P, Sodium Nipasept, Sodium hydroxide, , Malic acid, Sucralose, Xanthan gum, Acesulfame potassium, Edetate sodium, either Strawberry 539421 T or Orange 539420 T
The number of steps is dependent on the specific product. In this instance, the product outlines 3 steps.
Dosage
Match the child's weight to the chart below. If the weight is not known then match the age of the child.
If your child weighs less than 10kg (or is under 1 year of age) or more than 20 kg, please consult your doctor about adjusting the dosage amouny.
Warning
Do not give more 4 doses in one day or within any 24-hour period.
Do not use for more than 48 hours at a time except on medical advice.
Further Information
The recommended dose for Children's Panadol in children under 12 years is 15 milligrams of paracetamol for every 1 kilogram body weight. Follow the dosage instructions on the bottle, do not exceed the recommended dose unless directed by your doctor.
Enquiries
If you would like any further information regarding Children's Panadol products, please call our INFOLINE (Freecall) Australia on 1-800-028-533, or send a query through our website.
References
Celebi S et al. Indian J Pediatr 2009; 76(3): 287-291
Autret-leca E et al. Curr Med Res Opin 2007; 23(9);2205-2211
Watson PD et al. AJDC 1992;146:626-632