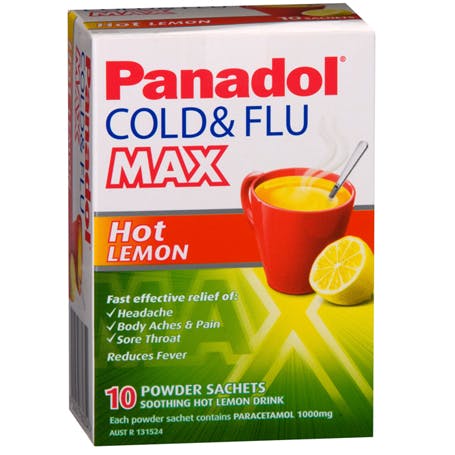 Adult Panadol
Panadol Cold & Flu MAX Hot Lemon
Panadol Cold & Flu MAX Hot Lemon Powder Sachets have the trusted pain relief of the Panadol brand in a soothing, hot lemon drink, to provide respite from the symptoms of a cold or flu.
Panadol helps relieve body aches and pains, a fever and sore throat while not making you feel drowsy so you can feel better, sooner.

Available in your local supermarket, it is formulated with Maximum Strength Paracetamol to work harder to relieve the aches, pains and fever associated with colds & flu.
What does it relieve?
Fever
Headaches
Body Aches and pain
Sore Throat
What's the format?
Powder Sachet
What are its features?
Hot Lemon powdered drink
Other features:
Non Drowsy
What are the ingredients?
Each Powder Sachet contains:
1000mg Paracetamol
Sucrose
Saccharin
129.9mg (5.6 mmol) Sodium, which should be taken into account by those on a low sodium diet
No gluten or lactose
Empty contents of one sachet into a mug, half fill with hot water, and then stir well. Add cold water as necessary and sugar if desired.
Dosage
How to Use Panadol Cold and Flu Hot Lemon powder sachets:
Age Sachet How Often 12-Adult 1 Every 6 hours as necessary (maximum 4 sachets in 24 hours)
DISCLAIMERS
ALWAYS READ THE LABEL. Use only as directed. For the temporary relief of cold and flu symptoms. If symptoms persist see your doctor.
Further Information
Suitable for people with stomach ulcers
No gluten or lactose
Enquiries
If you would like any further information regarding Panadol products, please call our INFOLINE (Freecall) Australia on 1-800-028-533