Panadol Extra with Optizorb
Panadol Extra with Optizorb is ideal for those who want the benefits of Panadol, plus a little more pain relieving effect on tough pain. The Ingredients in Panadol Extra with Optizorb relieves pain 3 times more effective than standard paracetamol. It also contains Optizorb technology to get to work in as little as 10 minutes.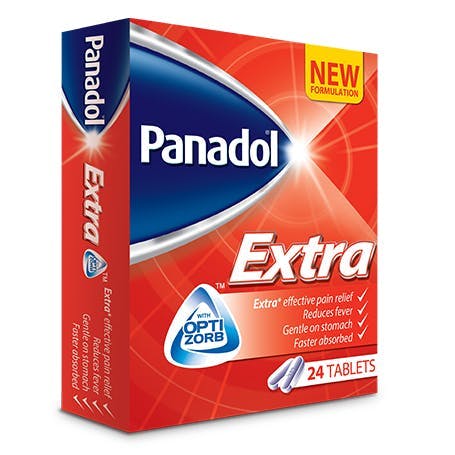 Panadol Extra with Optizorb is recommended for treatment of tough pain and fever such as:
Headache
Migraine
Rheumatic pain
Muscular Aches and Pains
Dysmenorrhea (Period Pain)
Toothaches
Osteoarthiritis
Sore Throat and symptoms of colds and influenza

Tablets are round and film-coated, making them easier to swallow and they have no bitter aftertaste.
Tough pain relief
Contains innovated Optizorb technology to get to work twice as fast as before for effective fast relief of pain and fever.
What are the ingredients?
Active ingredients:
500mg Paracetamol
65mg caffeine

Place tablet(s) in mouth and swallow with water.
| | | |
| --- | --- | --- |
| Age | Tablets | How Often |
| 12-Adult | 2 tablets | up to 4 times a day (8 tablets in 24 hours) |
DISCLAIMER
Do not exceed the stated dose. Should not be used with other paracetamol-containing products
Not recommended for children under 12 years of age
Always read the label. Use only as directed. For the relief of pain and fever. Incorrect use could be harmful.
Should not be taken with other products containing paracetamol at the same time.
Do not take this medicine if you are allergic to paracetamol ,caffeine or any other excipients(ingredient in the product)
If symptoms persist, please consult your doctor or pharmacist.
If you have any liver or kidney problems, please consult your doctor before taking Panadol.
Please see your doctor if your symptoms do not improve.
If symptoms persist or get worsen or new symptoms occur consult a doctor because these could be signs of a serious condition
If you have glutathione depleted states such as sepsis, please consult your doctor before taking Panadol
Avoid drinking too many caffeine-containing drinks, such as coffee or tea, when taking this medication.
Keep out of sight and reach of children.
Overdose Paracetamol
Immediate medical management is required in the event of overdose for the risk of liver failure, even if symptoms of overdose are not present. In massive over dosage exceeding 10g of paracetamol may cause liver failure. Early symptoms may include pallor, nausea, vomiting, (diaphoresis) and general malaise.
Clinical and laboratory evidence of liver damage may not be apparent until 48 to 72 hours past ingestion.

Overdose should be promptly treated by gastric lavage followed by intravenous N- acetylcysteine or methionine without waiting for the results of plasma paracetamol levels. General supportive measures must be available. Additional antidote therapy is normally considered in light of further plasma paracetamol levels and the time elapsed since ingestion.
Caffeine:
Overdose of caffeine may result in epigastric pain,vomiting, diuresis, tachycardia or cardiac arrhythmia,CNS stimulation (insomnia, restlessness, excitement,agitation, jitteriness, tremors and convulsions).
It must be noted that for clinically significant symptoms of caffeine overdose to occur with this product, the amount ingested would be associated with serious paracetamol-related liver toxicity. There is no specific antidote is available, but supportive measures such may be used.
In all cases of suspected overdose, prompt medical attention is critical for adults as well as for children, even if you do not notice any signs or symptoms
Prolonged daily use of paracetamol with anticoagulants and other coumarins used to thin the blood may increase the risk of bleeding; consult your doctor before taking these medicines together. Occasional doses of paracetamol have no significant effect.
The liver toxic effect of Panadol Extra may be increased by the use of alcohol.
Panadol Extra is not recommended for use during pregnancy due to the possible increased risk of spontaneous abortion associated with caffeine consumption.
This product should not be used while breast-feeding without medical advice. Caffeine in the breast milk may potentially have a stimulating effect on breast-fed infants but significant toxicity has not been observed.
If you would like any further information regarding Panadol products, please call our INFOLINE (Freecall) +973 16500404 - Gulf & Near East countries