Show your support with #WOMANhood
Together we are stronger in fighting tough period pain.

There is strength in numbers, and in each other. With the help of those who care for you, and Panadol Woman*, you can get through that time of the month with much ease.
* Panadol Woman is only available in Lebanon

Panadol Products For Everyday Pain Relief
View Panadol's everyday pain relief products.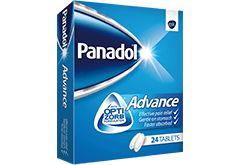 Panadol Advance
Panadol Advance is an advanced formulation of paracetamol that contains Optizorb.