Panadol Woman provides relief for tough period pain and abdominal cramps. It contains Paracetamol which has pain relieving and fever reducing properties, and hyoscine butylbromide which acts as Antispasmodics. Hyoscine acts on muscarinic receptors located on the smooth-muscle cells of the GI tract and uterus to relieve abdominal cramping and pain.
* Only available in Lebanon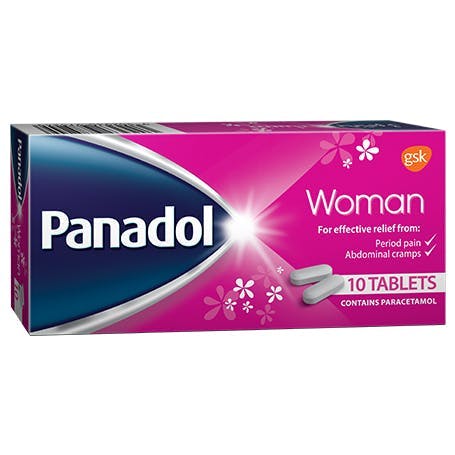 Indicated for the treatment of cramps and /or pain associated with:
Period pain
Abdominal cramps
Muscle Ache
Panadol Women containing Paracetamol and Hyoscine butylbromide is indicated for the treatement of cramps and pain associated with Dysmenorrhea and irritable bowel syndrome.

Relieve period pain and related stomach discomfort
What are the ingredients?
Active ingredient:
500mg Paracetamol, 10 mg hyoscine butylbromide
Place tablet(s) in mouth and swallow with water.
Age

Tablets

How Often

Menstruating women above 12 years

Not recommended for children under 12 years.

1 - 2 tablets

Every 8 hours as required, maximum 3 times daily. Do not exceed more than 6 tablets.

DISCLAIMER
Always read the label, use only as directed.
This product contain paracetamol. Do not use if you are taking any other prescription or non-prescription medicines containing paracetamol to treat pain, fever, symptoms of cold and flu, or to aid sleep.
Do not use if you are allergic to paracetamol, hyoscine or any of the other ingredients in the product.
Do not use if you have blockage if bowel, enlarged bowel, difficulty urinating due to prostate gland enlargement, increased pressure in your eyes, rapid or irregular heartbeat, myasthenia gravis.
You must talk to your doctor if you do not feel better or feel worse after 4 days.
If you have liver or kidney problem please consult your doctor before taking Panadol Woman.
Keep out of sight and reach of children.
Do not take this product if you are pregnant or trying to become pregnant or breast feeding, unless advised by your doctor.
Do not use for children under 12 years of age.
Do not take more than the recommended dose as it may cause serious harm to your liver. Immediate medical management is required in the event of paracetamol overdose even if symptoms are not present because of the risk of liver failure.
If you have a severe infection, are severely malnourished, severely underweight or are a chronic heavy alcohol-drinker, please consult your doctor before taking Panadol.
Check with your doctor if you are taking medicines used to treat depression called tricyclic or tetracyclic antidepressant, medicines for allergies and travel sickness called antihistamines, medicines used for breathing problems such as triotropium for Parkinson's disease and flu. Prolonged daily use of paracetamol with coumarins used to thin the blood may increase the risk of bleeding; consult your doctor before taking these medicines together.
Stop using this product and check immediate medical attention if you have continuous unexplained stomach pain, along with fever, and blood stools and/or are feeling faint.
If you would like any further information regarding Panadol products, please call our INFOLINE (Freecall) +973 16500404 - Gulf & Near East countries
Panadol Extra with Optizorb

Tough pain relief, contains innovated optizorb technology that allow fast relief of pain...