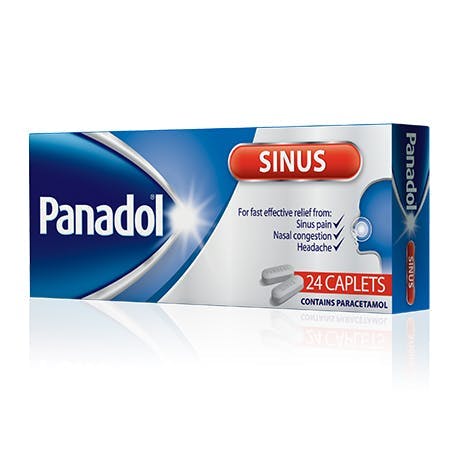 Panadol Sinus caplets can be used for the relief of:
Sinus Pain
Nasal congestion
Headache

Sinus pain and Congestion relief
What are the ingredients?
Active ingredients:
Each caplet contains:
Paracetamol = 500 mg
Pseudoephedrine Hydrochloride=30 mg
Place tablet(s) in mouth and swallow with water.
Age

Tablets

How Often

Adults + children aged 12 years and older

1-2 caplets

1 to 2 tablets every 4-6 hours

Do not take more than 8 tablets in 24 hours

Do not take longer than 7 days without asking your doctor
Disclaimer
Do not use if you have known or previous history of hypersensitivity to paracetamol, pseudoephedrine, or any other ingredient in this product
Do not use if you have severe hypertension or severe coronary artery disease
Do not use if you have severe renal impairment
Do not use if you are taking, or have taken, within the last two weeks, monoamine oxidase inhibitors
Do not use if you are taking other sympathomimetics (such as decongestants, appetite suppressants and AMP-like psychostimulants).
Further Information
Seek medical advice before taking this product:
In patients with mild to moderate kidney impairment
In patients with cardiovascular disease, arrhythmias, hypertension, hyperthyroidism, prostatic enlargement, diabetes, glaucoma,phaeochromocytoma
In patients with glutathione depleted states such as sepsis
If you are taking beta-blockers and other antihypertensives
There have been reports of ischaemic colitis with pseudoephedrine. Pseudoephedrine should be discontinued immediately and medical advice sought if sudden abdominal pain, rectal bleeding or other symptoms of ischaemic colitis develop
There have been rare cases of posterior reversible encephalopathy (PRES)/reversible cerebral vasoconstriction syndrome (RCVS) reported with sympathomimetic drugs, including pseudoephedrine. Symptoms reported included sudden onset of severe headache, nausea, vomiting, and visual disturbances. Most cases improved or resolved within a few days following appropriate treatment. Psuedoephedrine should be discontinued immediately and medical advice sought if signs/symptoms of PRES/RCVS develop
If symptoms persist, medical advice must be sought.
Keep out of sight and reach of children.
If you would like any further information regarding Panadol products, please call our INFOLINE (Freecall) +973 16500404 - Gulf & Near East countries