Panadol Cold + Flu All in One
Panadol Cold + Flu All in one tablet provide relives from cold + flu symptoms including chesty cough.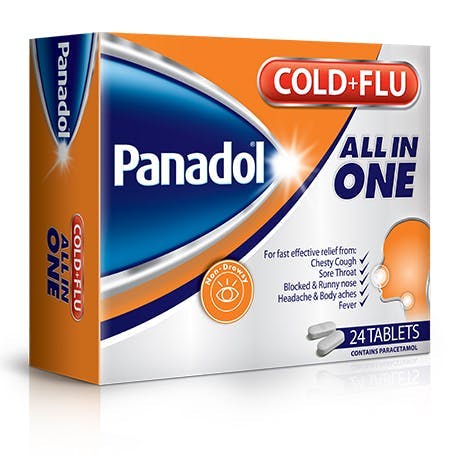 Panadol Cold + flu All in one tablet can be used for the relief of:
Chesty cough
Nasal Congestion
Sore throat
Headache and body ache
Fever

Tablets are round and film-coated.
What are the ingredients?
Each tablet contains:
Paracetamol = 250 mg
Guaifenesin = 100 mg
Phenylephrine Hydrochloride =5 mg
Place tablet(s) in mouth and swallow with water.
Age

Tablets

How Often

Adults + children aged 12 years and older

1-2 tablets

Every 4-6 hours, do not exceed 8 tablets in 24 hours

Do not take continuously for more than 5 days without medical advice
DISCLAIMER
Do not use if you have known or previous history of hypersensitivity to paracetamol, guaifenesin, phenylephrine, or any other ingredient in this product
Do not use if you are taking, or have taken, within the last two weeks, monoamine oxidase inhibitors
Do not be used with other paracetamol-containing products, decongestants, or cough and cold medicines.
Seek medical advice before taking this product if:
You have Hypertension, Cardiovascular Disease, Diabetes, Hyperthyroidism, Angle closure glaucoma,Phaeochromocytoma, An enlargement of the prostate gland,Occlusive vascular disease (e.g. Raynaud's Phenomenon),Liver and kidney impairment, glutathione depleted states such as sepsis
You are taking beta-blockers and other antihypertensive drugs or tricyclic antidepressants
This product should not be used by patients taking other sympathomimetics (such as decongestants, appetite suppressants).
If symptoms persist, medical advice must be sought.
Keep out of sight and reach of children
Do not give to children under 12 years of age
If you would like any further information regarding Panadol products, please call our INFOLINE (Freecall) +973 16500404 - Gulf & Near East countries