Product

Format

Age

Key Features

Ingredients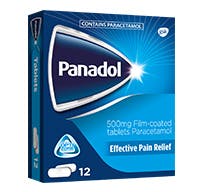 Panadol Tablets
Tablets
6+ years
Gentle on the Stomach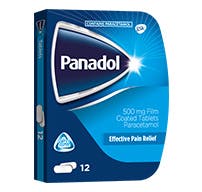 Panadol Compack
Tablets
6+ years
Gentle on the Stomach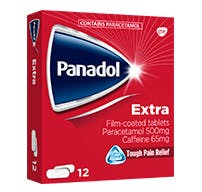 Panadol Extra
Tablets
12+ years
Fights Tough Pain
Paracetamol 500mg

Caffeine 65mg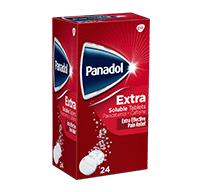 Panadol Extra Soluble
Soluble Tablets
12+ years
Fights Tough Pain
Paracetamol 500mg

Caffeine 65mg

Panadol Actifast
Tablets
12+ years
Fast Pain Relief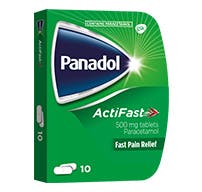 Panadol Actifast Compack
Tablets
12+ years
Fast Pain Relief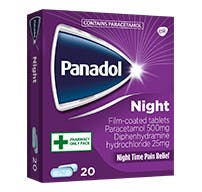 Panadol Night
Tablets
12+ years
Relieves night time pain
Paracetamol 500mg

Diphenhydramine Hydrochloride 25 mg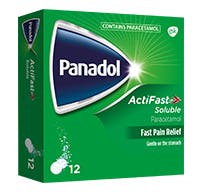 Panadol Actifast Soluble
Soluble Tablets
10+ years
Gentle on the Stomach
Teething: Taking Care Of Your Baby's Teeth
Teething may begin in the first few months after birth, but most babies begin teething at about six months of age. In some babies, teething may begin later, even after 12 months of age. Dribbling at three months may be a result of teething, or due to your baby learning to put things in their mouth, which is part of normal development.

Pain management and what you can do to help
Rub your baby's sore gums gently with your finger or soft toothbrush
Give your baby a teething ring – either a soft rubber one, or the plastic type that can be kept in the refrigerator (note: liquid-filled plastic rings should be avoided).
If you think your baby is in pain (for example crying, agitated or will no settle), consider giving paracetamol or ibuprofen as directed for the child's age
What not to do
Do not tie a teething ring or other objects around your child's neck
Do not place anything frozen on your child's gums
Avoid hard sharp-edged toys that could damage teeth and gums
Never cut the gums to help a tooth come through – this can lead to infection
Do not use teething powders
Never give your child aspirin, or place aspirin on the gums or teeth
Do not use alcohol to rub on the baby's gums
Do not use homeopathic remedies as they may contain ingredients that are not safe for babies
Signs of teething
Rosy, flushed cheeks
Increased dribbling
Chewing on everything
Restlessness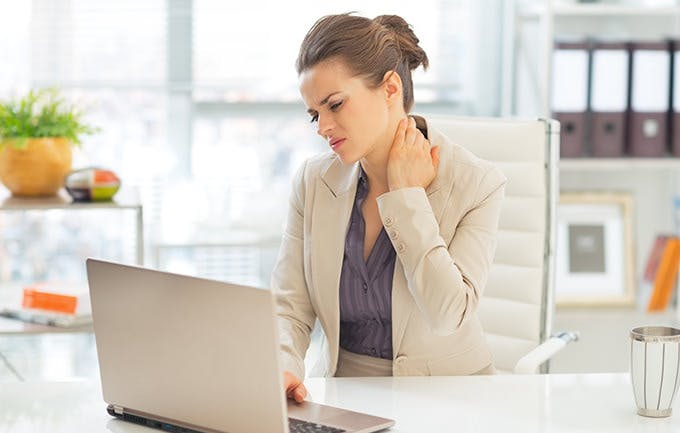 Headache warning signs - and when to call the doctor
The majority of people experience headaches during their lifetime. For the most part, headaches are short lived, only lasting a matter of minutes or hours.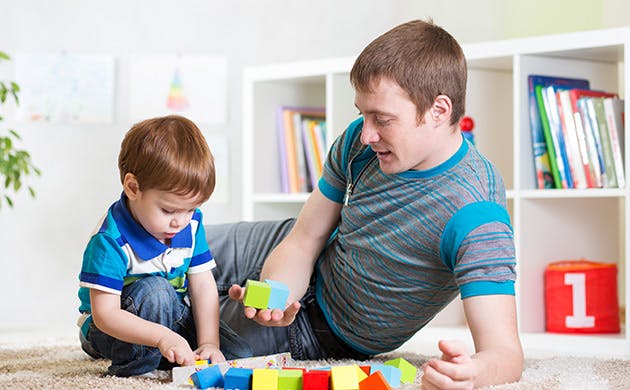 Which type of headache is causing you pain?
There are several different types of headache – for example, tension headache, migraine, and cluster headaches. Each different type of headache has its own characteristic symptoms. Headache pain can be described as dull and throbbing or sharp and localized, and can last anywhere from a few minutes to a few days.