Product

Format

Age

Key Features

Ingredients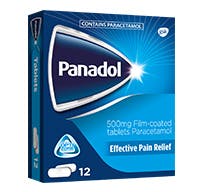 Panadol Tablets
Tablets
6+ years
Gentle on the Stomach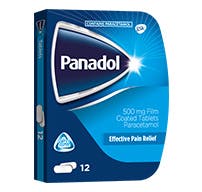 Panadol Compack
Tablets
6+ years
Gentle on the Stomach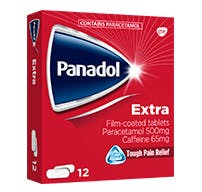 Panadol Extra
Tablets
12+ years
Fights Tough Pain
Paracetamol 500mg

Caffeine 65mg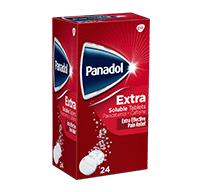 Panadol Extra Soluble
Soluble Tablets
12+ years
Fights Tough Pain
Paracetamol 500mg

Caffeine 65mg

Panadol Actifast
Tablets
12+ years
Fast Pain Relief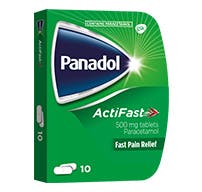 Panadol Actifast Compack
Tablets
12+ years
Fast Pain Relief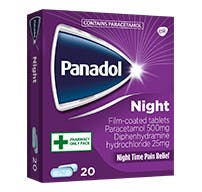 Panadol Night
Tablets
12+ years
Relieves night time pain
Paracetamol 500mg

Diphenhydramine Hydrochloride 25 mg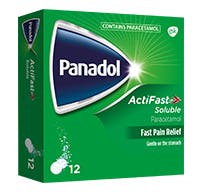 Panadol Actifast Soluble
Soluble Tablets
10+ years
Gentle on the Stomach
Common Colds in Children - and how to manage them
A cold is a mild viral infection of the nose, throat, sinuses and upper airways. It is very common and usually clears up on its own within a week or two.
The main symptoms of a cold include:
a sore throat
a blocked or runny nose
sneezing
a cough
headache
More severe symptoms, including a high temperature (fever) and aching muscles can also occur, although these tend to be associated more with the flu.
Tips to manage colds
When your child is displaying symptoms of a cold, preventing the spread of germs and helping your child feel better are your top priorities.
Here are four things that may help ease the symptoms:
Inhaling steam from a shower, or using a humidifier, may help relieve nasal congestion
Saline nasal drops or a nasal spray (followed by bulb suction for infants) may also ease breathing
Make sure the child drinks plenty of fluids, and gets enough rest
Try over-the-counter medicines such as paracetamol or ibuprofen to relieve fever
Give them warm liquids such as chicken soup – these may temporarily help ease congestion
It is important to note that cough and cold medicines and certain flu treatments should not be given to babies and young children under the age of 5 years. Speak to your doctor, and follow the instructions that come with the medicine.
When to call the doctor
Seek medical advice if your child:
Complains of an intense headache or earache
Has difficulty breathing
Has a persistent cough
Coughs up rusty coloured or blood-stained phlegm Has a temperature higher than 38.5⁰C
In most cases, with a little tender loving care and plenty of tissues, the common cold in children will resolve on its own.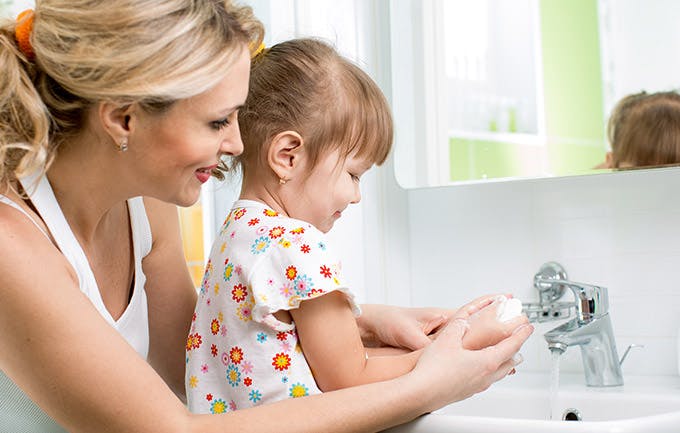 What's the difference between colds and the flu?
Both cold and flu are caused by viruses. The most common virus causing a cold is the rhinovirus, while influenza viruses cause the flu. Flu viruses can vary between seasons and geographical areas. While colds and the flu share some overlapping symptoms, there are some differences too.