Product

Format

Age

Key Features

Ingredients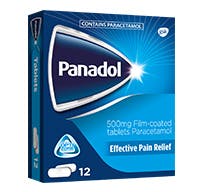 Panadol Tablets
Tablets
6+ years
Gentle on the Stomach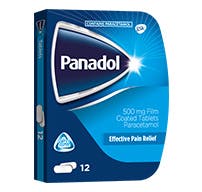 Panadol Compack
Tablets
6+ years
Gentle on the Stomach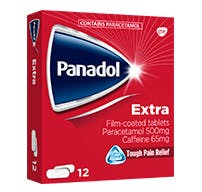 Panadol Extra
Tablets
12+ years
Fights Tough Pain
Paracetamol 500mg

Caffeine 65mg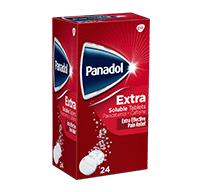 Panadol Extra Soluble
Soluble Tablets
12+ years
Fights Tough Pain
Paracetamol 500mg

Caffeine 65mg

Panadol Actifast
Tablets
12+ years
Fast Pain Relief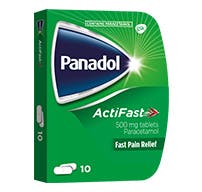 Panadol Actifast Compack
Tablets
12+ years
Fast Pain Relief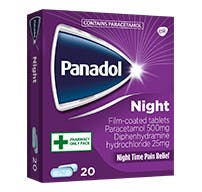 Panadol Night
Tablets
12+ years
Relieves night time pain
Paracetamol 500mg

Diphenhydramine Hydrochloride 25 mg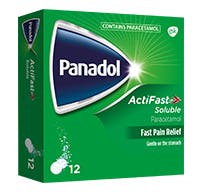 Panadol Actifast Soluble
Soluble Tablets
10+ years
Gentle on the Stomach
PANADOL BABY 120mg/5ml ORAL SUSPENSION PARACETAMOL
Strawberry flavoured Panadol Baby is suitable for babies and children from 2 months to 12 years. It is specially formulated to be pleasant to take and easy to administer.
Panadol Baby relieves: Teething Pain, Sore Throat, Toothache, Colds & Fever
- Gently Soothes Pain
- Lowers Temperature
This section contains an overview of Panadol products and does not include full product information. Always read the label/leaflet and only use as directed. Contains paracetamol.
What does it relieve?
Teething Pain
Sore Throat
Toothache
Colds & Fever
It also reduces the fever of childhood infections such as chicken pox, whooping cough, measles and mumps.
What is the format?
Oral suspension
What are its features?
Panadol Baby is suitable for babies and children from 2 months to 12 years
What are the ingredients?
The Paracetamol Oral Suspension bottle is available in 60mL and 100 mL.
Each 5mL dose contains 120mg Paracetamol. It also contains Hexacol Carmoisine Supra (E219, E215 and E217).
Contains maltitol syrup and sorbitol. If your child has a known intolerance to some sugars, contact your doctor before use.
For further information see leaflet.
Check the table below to see how much of the medicine to use.
For oral use only. It is important to shake the bottle for at least 10 seconds before use.
Never give more medicine than shown in the table.
Always use the spoon supplied with the pack.
Do not overfill the spoon.
Do not give with any other paracetamol-containing products.
Age
2-3 months
1) Post-vaccination fever
2) Other causes of Pain and Fever only if
- Weighs over 4 kg
- Born after 37 weeks
3-6 months
6-24 months
2-4 years
4-8 years
8-10 years
10-12 years
How much
One 2.5 mL measure.
If necessary, after 4-6 hours, give a second 2.5 mL dose.
One 2.5 mL measure
One 5 mL spoonful
One 5 mL spoonful and one 2.5 mL measure
Two 5mL spoonfuls
Three 5mL spoonfuls
Four 5mL spoonfuls
How often (in 24 hours)
1-2 times
4 times
4 times
4 times
4 times
4 times
4 times
NOT RECOMMENDED FOR BABIES UNDER 2 MONTHS EXCEPT ON MEDICAL ADVICE.
For professional advice on medicines, consult your pharmacist.
Contains Paracetamol
Further Information
Do not give more than 4 doses in any 24 hour period. Leave at least 4 hours between doses. Do not give this medicine to your child for more than 3 days without speaking to your doctor or pharmacist.
Do not give to babies less than 2 months of age. Do not give babies less than 3 months of age more than 2 doses without first consulting with your doctor or pharmacist.
DO NOT TAKE:
DO NOT EXCEED THE STATED DOSE.
DO NOT GIVE WITH OTHER PRODUCTS CONTAINING PARACETAMOL.
DO NOT GIVE if the child is allergic to paracetamol or any of the other ingredients.
IMPORTANT
This product should only be used when clearly necessary.
IMMEDIATE MEDICAL ADVICE SHOULD BE SOUGHT IN THE EVENT OF OVERDOSAGE EVEN IF YOUR CHILD FEELS WELL. PLEASE READ THE ENCLOSED LEAFLET CAREFULLY.
CONSULT YOUR DOCTOR:
If symptoms do not improve within 24 hours.
If the child is taking prescribed medicines or is under the care of a doctor.
If your baby was born prematurely and is under 3 months old.
Prolonged use without medical supervision may be harmful.