Product

Format

Age

Key Features

Ingredients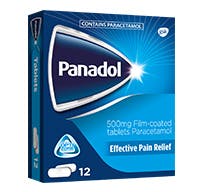 Panadol Tablets
Tablets
6+ years
Gentle on the Stomach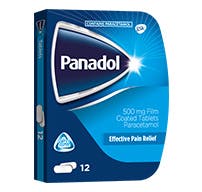 Panadol Compack
Tablets
6+ years
Gentle on the Stomach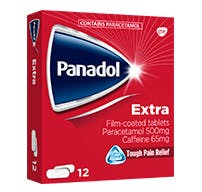 Panadol Extra
Tablets
12+ years
Fights Tough Pain
Paracetamol 500mg

Caffeine 65mg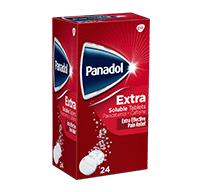 Panadol Extra Soluble
Soluble Tablets
12+ years
Fights Tough Pain
Paracetamol 500mg

Caffeine 65mg

Panadol Actifast
Tablets
12+ years
Fast Pain Relief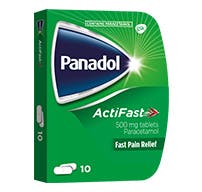 Panadol Actifast Compack
Tablets
12+ years
Fast Pain Relief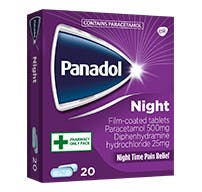 Panadol Night
Tablets
12+ years
Relieves night time pain
Paracetamol 500mg

Diphenhydramine Hydrochloride 25 mg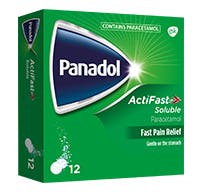 Panadol Actifast Soluble
Soluble Tablets
10+ years
Gentle on the Stomach
Made in Ireland
GSK, one of the world's leading healthcare companies, employs 1,700 people across four locations in Ireland. GSK in Dungarvan, Co. Waterford, is the global home of Panadol: around 6.5 billion Panadol tablets are produced here each year.
GSK has had a presence in Dungarvan, Co. Waterford since 1981. We believe the local people are the vital ingredient in the global success story that is Panadol.
These eight local heroes, along with their teams, have contributed to this global Irish success story:


Bill O'Mahoney
West Waterford, on the South-East Coast of Ireland is one of the most picturesque parts of the country however, the coastal location always brings its share of rescue missions too and Bill O'Mahoney, who works as a Packaging Operator on the Panadol lines is an Ardmore Coast Guard who is ready for the challenge at sea – whatever the mission.


Eileen Power
Eileen Power enjoys working with the Panadol Team and also has a huge passion for giving back to her community. Eileen is a Special Olympics volunteer and her son is a successful, medal-winning competitor in equine events.

Rachel and Brendan Landers
Showing a continued commitment to strongly embedding itself locally by supporting Ireland and all things Irish, the company has partnered with RTÉ to sponsor popular high-rating TV programmes Nationwide and Ear to the Ground. Husband and wife team Rachel and Brendan Landers particularly appreciate this as they are embedded in their local team and are both coaches for Lismore GAA.


Damian Travers and Robert Power
Damian Travers and Robert Power, who both work with the Panadol team, are also both members of the Dungarvan cycling club and Robert is also a former Olympic cyclist. These athletes are always pushing themselves to go that extra mile in life and at their singular pursuit of being the best that they can be in the cycling sphere.


Raivis Zakis
While Raivis Zakis works on site in Dungarvan with Panadol, he is also an extreme runner. He has won and competed in many races around the country and further afield and most recently was cheered on locally as he won the Waterford 2017 Viking Marathon. His drive and dedication extends to his work at the GSK Dungarvan site and also to his commitment to this extreme sport.

Brendan Morrissey
Brendan Morrissey works on site at Dungarvan, but his dedication and commitment to the community stretches far beyond his place of work. He is a volunteer Fire Officer at Dungarvan Station.

This is What We're Made Of: