Relieve your baby's fever and pain with the most trusted medicine in the last 50 years. Choose Panadol Children Syrup for pain and fever relief in children from 2 to 12 years, while being gentle on little tummies*
*When used as directed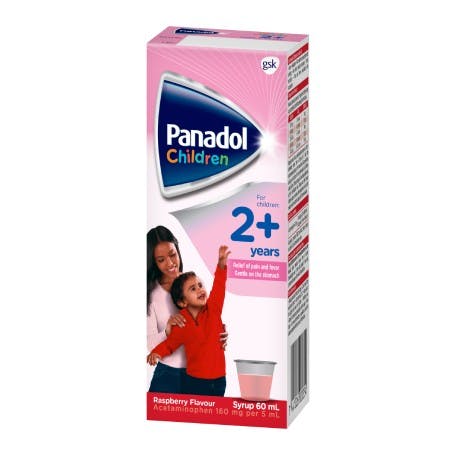 Children's Panadol Syrup provides fast and effective relief of:

Fever
Headache
Pain and fever associated with teething and vaccination
The active ingredient in Panadol Children Syrup is recommended for the relief of pain and fever associated with Zika, Dengue and Chikungunya virus*.
*PAHO/WHO, 2015. Zika virus infection. Epidemiological update. Most recent version accessed October 2016. PAHO/WHO, 2016. Chikungunya fever. Questions and Answers. Accessed October 2016. PAHO/WHO, 2016. Dengue guidelines for patient care in the region of the Americas, second edition. Accessed October 2016.

Pharmaceutical form:
Syrup.
Presentation:
60 mL bottle with dosing cup. Raspberry flavor.
120 mL bottle with dosing cup. Raspberry flavor.
Starts to relieve fever in 15 minutes**.
Includes a plastic cup with measurement scales for easy dosage.
Sugar, alcohol and acid acetylsalicyl free.
Gentle on little tummies*.
Bottle with safety cap, which prevents it from being opened by children.

**Acetaminophen, the active ingredient in Panadol Baby.
*When used as directed
What are the ingredients?
Each 5mL of Panadol Children Syrup contains:
Acetaminophen 160 mg.
Excipients q.e.f.
1. Find the correct mL for your child on the dosing table included on the label.
2. Measure the required amount in dossing cup.
3. Drop directly onto the child's tongue.
After use wipe the neck of the bottle clean. Rinse the dosing device with hot water before and after use.
Dosage
Match the child's weight to the chart below. If you don't know the weight, match the age of the child. If your child weighs less than 11 kg (or is under 2 years of age), please refer to Panadol Baby Drops or consult your doctor.
| | | |
| --- | --- | --- |
| Weight | Age | Dosage |
| 11-15 kg | 2-4 years | 5 mL |
| 16-21 kg | 5-6 years | 7.5 mL |
| 22-27 kg | 7-9 years | 10 mL |
| 28-35 kg | 10-11 years | 12 mL |
| 36-41 kg | 12 years | 15 mL |

You can repeat every 6 hours, while symptoms persist. Do not administer more than 4 times in a day the recommended dose, or for more than 3 days. Consult a doctor if pain and fever persist for more than 3 days.
Further Information
For warnings, precautions, interactions with other medication and adverse effects always read the label.
Do not exceed the recommended dose. In case of accidental overdose seek medical advice immediately because of the risk of liver and renal failure. Keep out of the reach and sight of children. Use only if the strip is intact. Store below 30°C. Oral Use
PM-JM-PAN-20-00010