Panadol Osteo is a patented bi-layer tablet incorporating an immediate release and a sustained release dose to help manage osteoarthritis. It can provide long-lasting relief from persistent pain. Panadol Osteo can be a convenient choice, containing a higher dose of paracetamol than regular Panadol tablets. With only 3 daily doses, each lasting up to 8 hours, Panadol Osteo may provide up to 24-hour relief from pain.
Did you know
All modified release paracetamol products including Panadol Osteo will only be available behind the counter from 1st June 2020. This is to ensure the quality use of medicines for osteoarthritis sufferers.
Panadol Osteo is still available for purchase without a prescription, but you will need to speak with your pharmacist first. This is a good opportunity to discuss your treatment plan with your pharmacist, including checking medication is being taken correctly, and looking at other measures such as exercise, weight management, topical creams and gels and complementary medicines.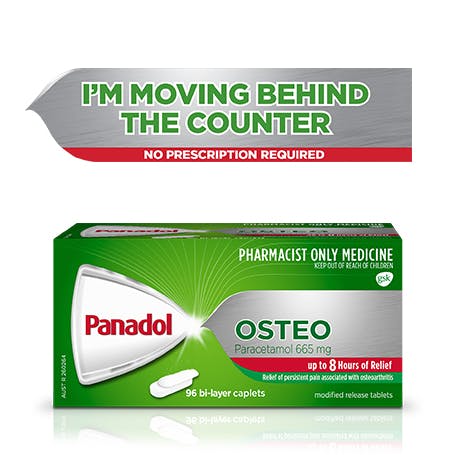 Use Panadol Osteo for effective relief of persistent pain associated with Osteoarthritis.

Caplets are oval shaped, as well as film-coated, making them easier to swallow and leaving no bitter aftertaste.
The paracetamol in Panadol Osteo is released in 2 stages, with the first stage being released quickly, for rapid onset of action, and the second stage being released slowly over the day or night, to provide prolonged pain relief.
Other features:
Gentle on the stomach
What are the ingredients?
Active ingredient: 665mg Paracetamol
Place caplet(s) in mouth and swallow with water
| | | |
| --- | --- | --- |
| Age | Tablets | How often |
| 12 - Adult | 2 | Swallowed whole with water three times a day every 6-8 hours. (maximum 6 caplets in 24 hours) |
Disclaimer
This medicine may not be right for you. Read the label before purchase. Follow the directions for use. If symptoms persist, talk to your health professional. Incorrect use could be harmful. Panadol Osteo as of 1st June 2020: Ask your pharmacist – they must decide if this product is right for you. Incorrect use could be harmful.
Further Information
No gluten, lactose or sugar
If you would like any further information regarding Panadol products, please call our INFOLINE (Freecall) Australia on 1-800-028-533