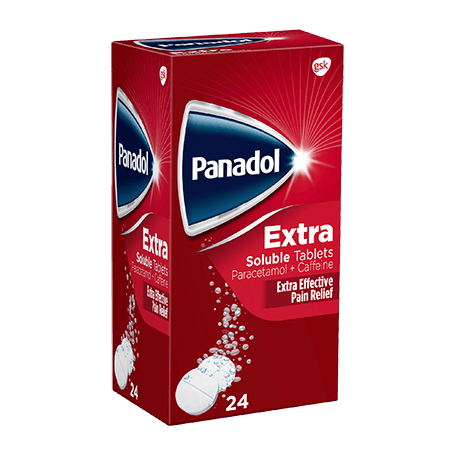 PANADOL EXTRA SOLUBLE TABLETS
Panadol Extra Soluble Tablets are formulated to provide effective pain relief and help to reduce fever. Pandol Extra Soluble Tablets contain caffeine which acts to further amplify the pain relieving effect of paracetamol.
This section contains an overview of Panadol products and does not include full label information. Always read the product label/leaflet and only use as directed. Contains paracetamol.
What does it relieve?
Headache
Backache
Sore Throat
Rheumatic Pain
The fever, aches and pains of colds and flu
Migraine
Toothache
Period Pain
What is the format?
Soluble Tablets
What are its features?
Soluble Format
What are the ingredients?
Paracetamol 500mg, Caffeine 65mg
Tablets should be dissolved in at least half a glass of water.
Tablets
1 tablet
2 tablets
How often
Give 1 tablet dissolved in water, up to 4 times daily. Do not give more frequently than every 4 hours. Do not give more than 4 tablets in 24 hours.
Take 2 tablets dissoved in water up to four times daily. Do not take more frequently than every four hours. Do not take more than 8 tablets in 24 hours.
Not recommended for children under 12
Further Information
Panadol Extra Soluble Tablets Patient Information Leaflet
By clicking the link(s) above, you will be taken to an external website that is independently operated and not managed by GSK. GSK assumes no responsibility for the content on the website. If you do not wish to leave this website, do not click on the links above.