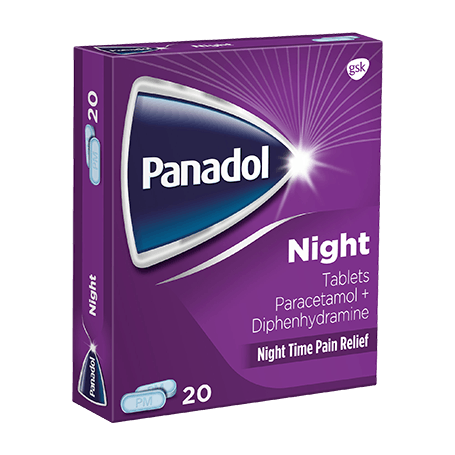 Panadol NightPain
Panadol NightPain tablets provide fast and effective relief of bed time pain including headaches, backache, rheumatic pains and muscle pains, period pains and toothache which is causing difficulty in getting to sleep.
Panadol Night tablets have two active ingredients. Paracetamol relieves pain and can reduce fever. Diphenhydramine hydrochloride is an antihistamine which causes sleepiness, which is why Panadol Night should only be taken at bedtime.
This section contains an overview of Panadol products and does not include full label information. Always read the product label/leaflet and only use as directed. Contains paracetamol.
What does it relieve?
Headaches
Migraine
Backache
Rheumatic pains and muscle pains
Period pains and toothache.
What is the format?
Tablets
What are its features?
Relieves night time pain
What are the ingredients?
Paracetamol 500mg
Diphenhydramine Hydrochloride 25mg
Swallow tablet(s) with water.

How often
Take 2 tablets about 20 minutes before bedtime. Do not take more than 2 tablets per night. Do not take Panadol Night for more than 7 consecutive nights without consulting your doctor.
Further Information
Panadol NightPain Patient Information Leaflet
By clicking the link(s) above, you will be taken to an external website that is independently operated and not managed by GSK. GSK assumes no responsibility for the content on the website. If you do not wish to leave this website, do not click on the links above.