How can I manage my child's fever?
In children, a fever is not unusual when they are unwell. However, it can be worrying for you as a parent to wake up in the middle of the night to find that your child has a temperature.
Read on to learn how you can comfort and help relieve your little one's fever and recognize when you should seek medical help.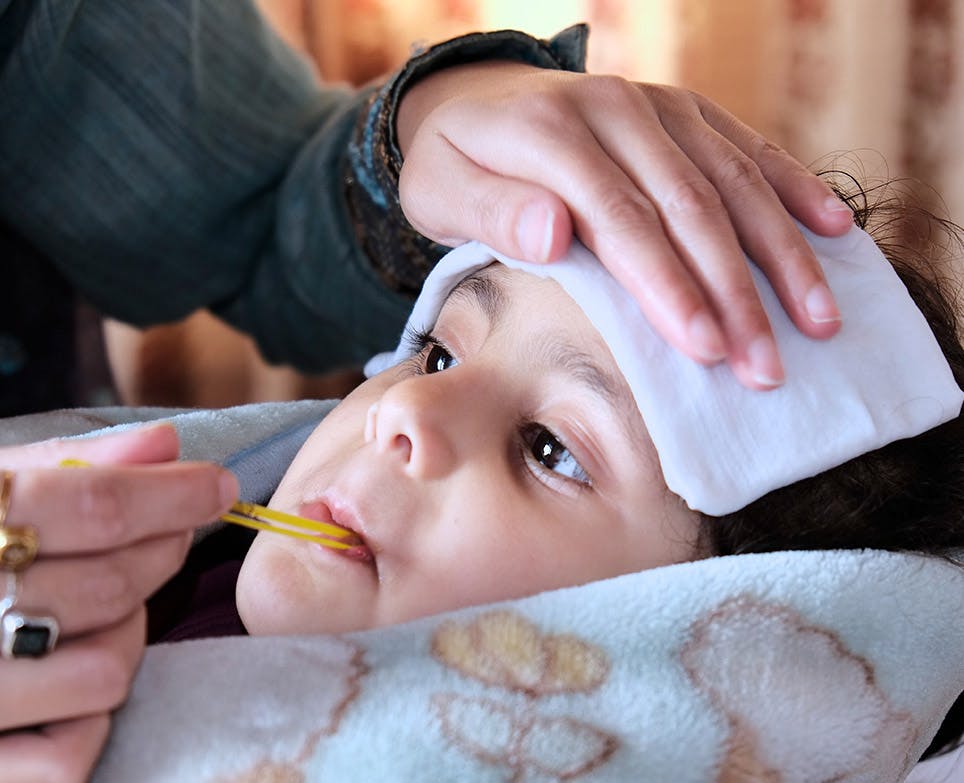 A fever is an increase in body temperature. It's part of our body's normal response to infections, and it plays an important role in fighting them. Your child's temperature will return to normal once the infection has gone.
Apart from discomfort, a fever won't generally cause problems for your child. You just have to keep a close eye on them and do your best to keep them comfortable.

Does my child have a fever?
If you're not sure if your child has a fever, start by taking his/her temperature. A fever is a body temperature over 38°C. However, as different types of thermometers have varying accuracy, the following are generally accepted values:
On the forehead (temporal artery thermometer) - Above 38°C
Under the tongue - Above 37.5°C
In the ear - Above 38°C
In the armpit - Above 37°C
Here are a few signs and symptoms to keep an eye out for:
Redness or flushing
Chills and shivering
Irritability or tiredness
Loss of appetite
Dehydration

How can I help relieve fever?
The following home remedies will help you manage your child's fever:
Keep them hydrated with fluids
Make sure they're well-rested
Keep them cool in light clothing
If your child is suffering from pain and discomfort with their fever, an over-the- counter medication containing paracetamol – such as Children's Panadol – can help. The correct dose for Children's Panadol depends on your child's body weight, so make sure you know what it is.
Extra care should be taken not to give your child any other medications containing paracetamol to avoid accidental overdose.
To make sure you are giving your child the right dose, always stick to a medication routine and refer to the product label for dosing instructions. This handy Children's Panadol Online Dosage Calculator will help you work out the recommended dose. Then, to help you measure out the correct amount for your child, Children's Panadol (liquid) comes with an easy-to-use dosing device.
Consult your nurse, doctor or pharmacist if you are in any doubt. Also, if your child continues to seem uncomfortable or distressed after treatment, visit your doctor as soon as you can.

Trusted
It's only natural that as parents, we wish to feel confident and assured when it comes to making our kids feel better. Children's Panadol is recommended for the relief of pain and fever in children, and is trusted by mums and dads across the world.
Heritage of use
Children's Panadol has been trusted for over 60 years for the temporary relief of pain and fever.
Suitability
Tough on fever, gentle on little tummies, Children's Panadol is a suitable choice for kids.
Range
Children's Panadol is available in a variety of formulations including baby drops, elixirs, suspensions, suppositories, chewable tablets and soluble tablets. A range of tailored products covers children aged from 1 month to 12 years.
It is important to match your child's weight to the corresponding dose on
the label.

When should we see a doctor?
You should seek medical attention if your child:
is under three months old and has a fever
is above three months old and has a temperature of 40°C or more
has a fever that persists for more than 2 or 3 days
refuses to drink water or urinates less often (indicating possible dehydration)
develops a rash
has frequent bouts of vomiting and diarrhoea
is listless or weak
is unusually sleepy or drowsy
has a stiff neck, persistent headache or a sensitivity to light
is very irritable and inconsolable
See your doctor if you have any concerns at all.
ALWAYS READ THE LABEL.
Use only as directed. Incorrect use could be harmful. If symptoms persist see your healthcare professional. Seek medical advice for children under 3 months of age.