When you're suffering from headache and body aches, you need rapid relief. Panadol Rapid Soluble is absorbed twice as fast as regular Panadol Tablets and comes in a lemon flavoured effervescent tablet. Panadol Rapid Soluble is also gentle on your stomach.
When you've got aches, pains, or fever you can count on Panadol Rapid Soluble to help you to get back to the things you enjoy.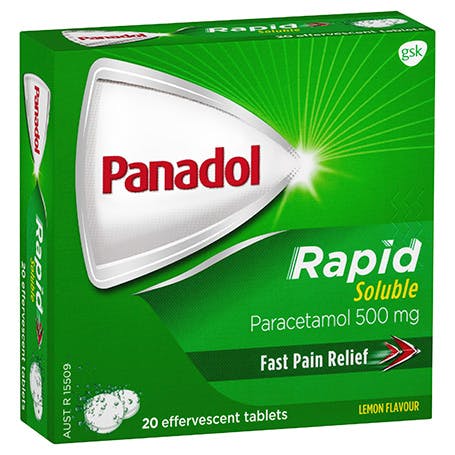 Headache/Tension headache
Toothache
Cold & Flu symptoms
Migraine headache
Sore Throat
Muscular aches
Period pain
Panadol Rapid Soluble also reduces fever.

Effervescent tablets are designed to break in contact with water or another liquid, releasing carbon dioxide in the process. Rapid breakdown often may cause the tablet to dissolve into a solution, and is also often followed by a froth.
Panadol Rapid Soluble is absorbed twice as fast as regular Panadol Tablets
Other features:
Gentle on the stomach
What are the ingredients?
Active ingredient: 500mg Paracetamol
Also Contains:
Sucrose
Saccharin Sodium
Aspartame
PHENYLALANINE – DO NOT USE THIS PRODUCT IF YOU ARE PHENYLKETONURIC
425.5mg (18.5mmol) Sodium, which should be taken into account by those on a low sodium diet
Drop tablet(s) into a glass of room temperature water
Wait until tablet(s) are fully dissolved and have stopped fizzing
Drink water
| | | |
| --- | --- | --- |
| Age | Tablets | How often |
| 12 - Adult | 2 dissolved in a glass of water at room temperature | Taken every 4-6 hours as required (maximum 8 tablets in 24 hours) |
Disclaimer
ALWAYS READ THE LABEL. Use only as directed. For the temporary relief of pain and fever. Incorrect use could be harmful. Consult your healthcare professional if symptoms persist.

Further Information
Also suitable for people with stomach ulcers.
If you would like any further information regarding Panadol products, please call our INFOLINE (Freecall) Australia on 1-800-028-533