Pain shouldn't get in the way of living life to the fullest.
Panadol Rapid contains sodium bicarbonate, enabling it to be absorbed twice as fast as regular Panadol Tablets and helping you get back to the things you enjoy, fast. When you want fast pain relief from headaches, toothaches and body aches, choose Panadol Rapid. Like other Panadol tablets and caplets, Panadol Rapid is gentle on the stomach.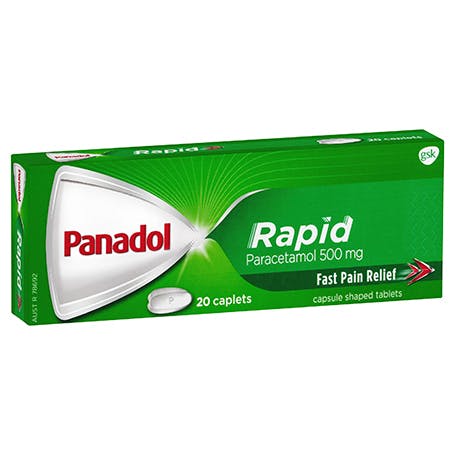 Panadol Rapid provides fast, effective temporary relief of pain and discomfort associated with:
Headache/Tension headache
Migraine headache
Toothache
Muscular aches
Cold & Flu symptoms
Period pain
Panadol Rapid also reduces fever.

Caplets are oval shaped, as well as film-coated, making them easier to swallow and leaving no bitter aftertaste.
Panadol Rapid is absorbed twice as fast as regular Panadol Tablets
Other features:
Gentle on the stomach
What are the ingredients?
Active ingredient: 500mg Paracetamol
Place Caplet(s) in mouth and swallow with water.
| | | |
| --- | --- | --- |
| Age | Tablets | How often |
| 12 - Adult | 1-2 caplets | Taken every 4-6 hours as required (maximum 8 tablets in 24 hours) |
Disclaimer
ALWAYS READ THE LABEL. Use only as directed. For the temporary relief of pain and fever. Incorrect use could be harmful. Consult your healthcare professional if symptoms persist.

Further Information
8 caplets contain 1.4g (60mmol) sodium, which should be taken into account by those on a low sodium diet
Also contains Potassium sorbate as preservative

If you would like any further information regarding Panadol products, please call our INFOLINE (Freecall) Australia on 1-800-028-533