Panadol Suppositories are a suitable option for those who are not able to take oral (by mouth) doses or those suffering from nausea and vomiting. Panadol suppositories provide temporary relief from pain & fever.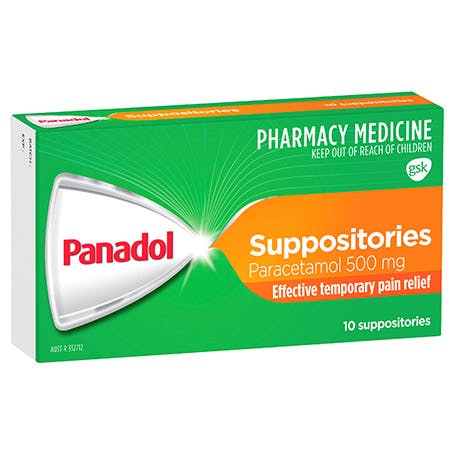 Panadol Suppositories provide fast, effective temporary relief of pain and discomfort associated with:
Headache/Tension headache
Toothache
Cold & Flu symptoms
Migraine headache
Muscular aches
Arthritis/Osteoarthritis
Backache
Period pain
Panadol Suppositories also reduce fever.

Suppository
A solid medical preparation in a roughly conical or cylindrical shape, designed to be inserted into the rectum to dissolve.
For patients not able to take oral doses
For patients suffering from nausea & vomiting
What are the ingredients?
Active ingredient: 500mg Paracetamol per suppository.
Tear the strip foil and take the suppository
For ease of insertion, the suppository can be moistened just before insertion
Insert into the rectum according to the dosage table
| | | |
| --- | --- | --- |
| Age | Tablets | How often |
| 12 - Adult | 2 | Every 4-6 hours as required (maximum 8 tablets in 24 hours) |
| 10-12 | 1 | Every 4-6 hours as required (maximum 4 tablets in 24 hours) |
Further Information
Also contains Methyl and Propyl Hydroxybenzoate
If you would like any further information regarding Panadol products, please call our INFOLINE (Freecall) Australia on 1-800-028-533
Panadol Caplets With Optizorb Formulation

Panadol Caplets with OPTIZORB® formulation is a smart choice...

Panadol Tablets With Optizorb Formulation

Panadol with Optizorb contains a patented delivery...