MAL 19930450XRZ

Panadol Souble provides relief of fever and aches related to cold and flu. Panadol Soluble is gentle on the stomach and is available in lemon flavour.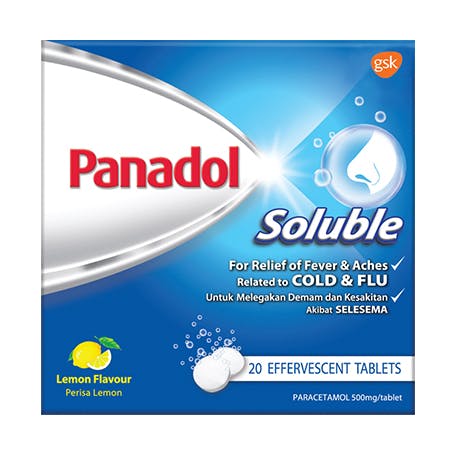 Headache

Migraine
Muscle Ache
Period Pain
Sore Throat
Musculoskeletal Pain
Fever and Pain after Vaccination
Pain after Dental Procedures / Tooth Extraction
Toothache
Pain of Osteoarthritis
Panadol Soluble Tablet also relieves fever.

In format of effercescent tablets to provide fast pain relief.
Relief of fever and aches related to cold and flu.
What are the ingredients?
Active ingredient:
Paracetamol 500mg
Dissolve tablet(s) in at least half a tumbler of water.
Dosage
Please refer to package insert before consuming the product.
Disclaimer
ALWAYS READ THE LABEL. Use only as directed. For the temporary relief of pain and fever. Incorrect use could be harmful. Consult your healthcare professional if symptoms persist.
Panadol products contain paracetamol. Do not take it with other medicines that also contain paracetamol. Paracetamol is contained in many medicines to treat pain, fever and symptoms of cold and flu and sleep medicines.
If you have liver or kidney disease, consult your doctor before taking paracetamol.
Do not take more than the recommended dose. Doing so may be harmful to your body, including causing damage to your liver.
Further Information
Not recommended for children under 9 years of age.
Each tablet contains 427mg of sodium (845mg of sodium per 2 tablet dose).
If you would like any further information regarding Panadol products, please call our free phone Malaysia on 1-800-88-3225 or drop us a query at ml.customer-relations@gsk.com.