Product

Format

Age

Key Features

Ingredients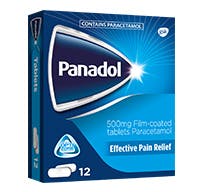 Panadol Tablets
Tablets
6+ years
Gentle on the Stomach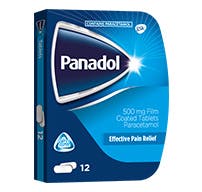 Panadol Compack
Tablets
6+ years
Gentle on the Stomach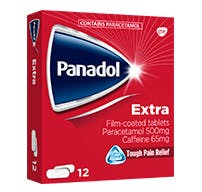 Panadol Extra
Tablets
12+ years
Fights Tough Pain
Paracetamol 500mg

Caffeine 65mg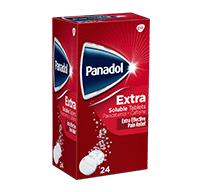 Panadol Extra Soluble
Soluble Tablets
12+ years
Fights Tough Pain
Paracetamol 500mg

Caffeine 65mg

Panadol Actifast
Tablets
12+ years
Fast Pain Relief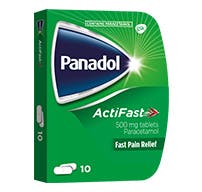 Panadol Actifast Compack
Tablets
12+ years
Fast Pain Relief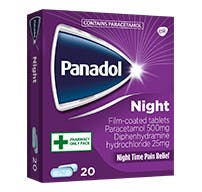 Panadol Night
Tablets
12+ years
Relieves night time pain
Paracetamol 500mg

Diphenhydramine Hydrochloride 25 mg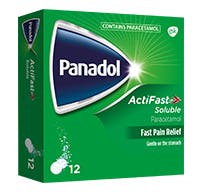 Panadol Actifast Soluble
Soluble Tablets
10+ years
Gentle on the Stomach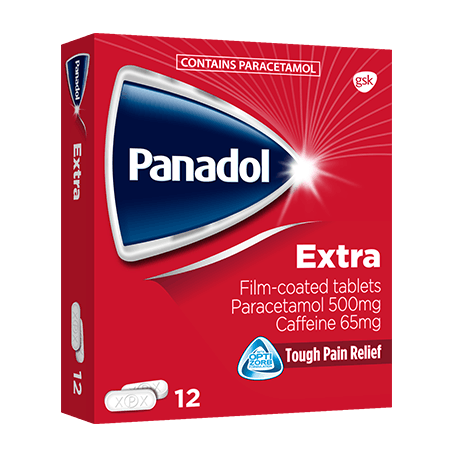 PANADOL EXTRA FILM-COATED TABLETS PARACETAMOL 500mg CAFFEINE 65mg
Panadol Extra contains specially formulated ingredients to provide additional pain relief. Panadol Extra is extra effective against pain, it does not irritate the stomach and is gentle on you. Suitable for: Headache, Backache, Toothache, Rheumatic Pain, Muscle Pain, Period Pain.
- Extra effective pain relief
- Gentle on the stomach
This section contains an overview of Panadol products and does not include full product information. Always read the label/leaflet and only use as directed. Contains
Paracetamol.
What does it relieve?
Headache
Backache
Toothache
Rheumatic Pain
Muscle Pain
Period Pain
What is the format?
Tablets
What are its features?
Extra effective pain relief
What are the ingredients?
Each film-coated tablet contains: Paracetamol 500mg, Caffeine 65mg.
Contains parahydroxybenzoates (E219, E215 and E217).
For further information see leaflet.
For oral use:
Swallow Panadol Extra tablets with water.
Age
Adults (including the elderly and children aged 16 years and over)
Children (12-15 years)

Tablets
1-2 tablets
1 tablet
How Often
Take 2 tablets every 4 hours as required. Do not take more than 8 tablets in 24 hours.
Take 1 tablet every 4 hours as required. Do not take more than 4 tablets in 24 hours.
NOT SUITABLE FOR CHILDREN UNDER 12 YEARS
For professional advice on medicines, consult your pharmacist.
Contains Paracetamol
DO NOT TAKE:
If you are allergic to paracetamol or any of the other ingredients.
DO NOT EXCEED THE STATED DOSE.
DO NOT TAKE WITH ANY OTHER PARACETAMOL CONTAINING PRODUCTS.
IMPORTANT
This product should only be used when clearly necessary.
IMMEDIATE MEDICAL ADVICE SHOULD BE SOUGHT IN THE EVENT OF OVERDOSAGE EVEN IF YOU FEEL WELL. PLEASE READ THE ENCLOSED LEAFLET CAREFULLY.
CONSULT YOUR DOCTOR:
If symptoms persist.
Prolonged use without medical supervision may be harmful.