Panadol Multisymptom Non Drowsy





Children's Panadol Chewable Tablets
Product

Format

Age

Key Features

Ingredients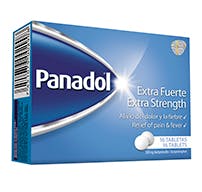 Panadol Extra Strength
Tablets
12+ Years
Fast and effective relief of mild to moderate pain
Active ingredient: Acetaminophen 500mg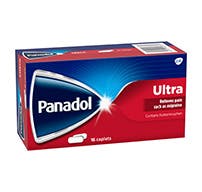 Panadol Ultra
Caplets
12+ Years
Fast and effective relief of tough pain
Active ingredients: Acetaminophen 500mg
Caffeine 65mg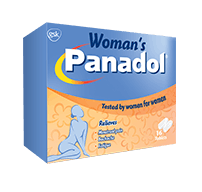 Woman's Panadol
Tablets
12+ Years
Relief of menstrual pain
Active ingredients: Acetaminophen 500mg
Caffeine 65mg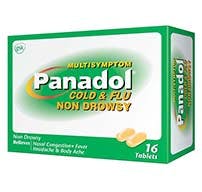 Panadol Multisymptom Non Drowsy
Tablets
12+ Years
Effective relief of the bothersome cold and flu symptoms without causing drowsiness.
Active ingredients:

Acetaminophen 500 mg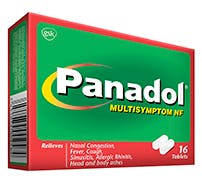 Panadol Multisymtom NF
Tablets
12+ Years
Fights the bothersome cold & flu symptoms, including dry cough
Active ingredients: Acetaminophen 500 mg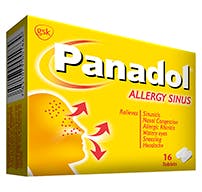 Panadol Allergy Sinus
Tablets
12+ Years
Effective relief of symptoms associated with allergy and sinusitis
Active ingredients:

Acetaminophen 500 mg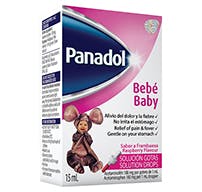 Baby's Panadol Drops
Drops
2 Months-5 Years
Fast relief from pain and fever in babies from 2 months.
Each mL contains: 100 mg acetaminofén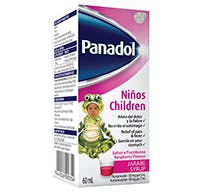 Children's Panadol Syrup
Syrup
1-12 Years
Effective relief from fever and pain in Children's 2 years onwards.
Each 5ml of syrup contains: 160 mg acetaminophen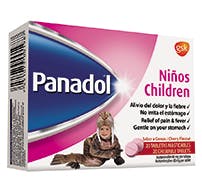 Children's Panadol Chewable Tablets
Tablets
1-12 Years
Effective relief from fever and pain in Children's 2 years onwards.
Active Ingredient: Encapsulated Acetaminophen (92%) 87mg equivalent to 80mg of Acetaminophen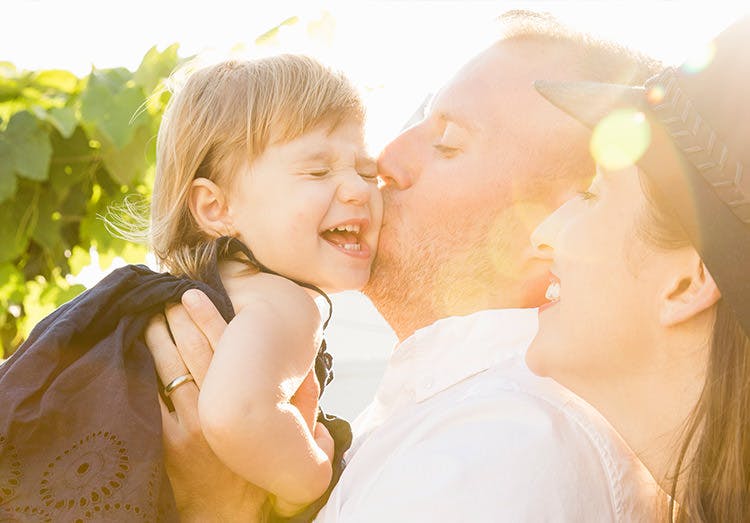 Fever
The normal body temperature is between 36.5°C and 37.5°C. A fever is one way your body fights off an inflammation or infection, causing your body temperature to go up to kill bacteria that will die at higher temperatures. While a fever may be uncomfortable, it usually isn't a cause for concern and goes away within a few days. Taking a acetaminophen products such as Panadol, can help relieve discomfort and reduce fever.
Tip

When your body temperature goes up, you're likely to sweat more. So staying well hydrated is extra important.

Tip

If you're feeling feverish, head straight to bed and rest. Being active may make you feel worse as it adds stress to your body.

Tip

You can help lower your body temperature by placing a cool towel on your forehead.
The body's normal temperature is around 37°C, however it can vary according to the time of day. If your temperature is over 38°C when measured orally, then you are considered to have a fever.24,25
A fever can often be a good sign. Generally, fevers happen when your immune system is fighting off infections such as colds, coughs and ear infections. At the first sign of attack, the body's defenses launch infection-fighting chemicals into the blood. These chemicals also affect the body's thermostat, which is located in the brain and called the hypothalamus.26,27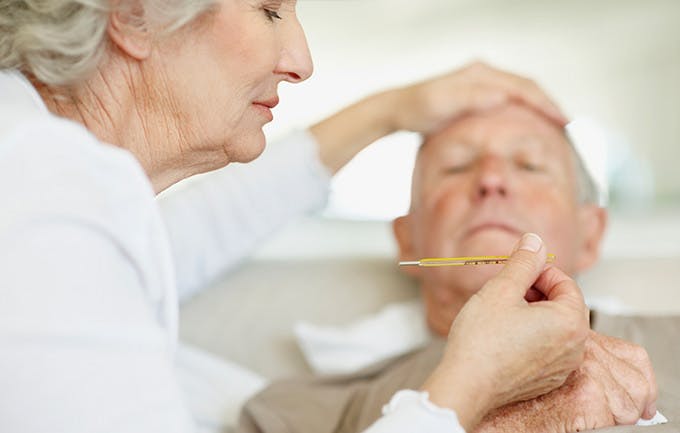 To take your temperature and help with managing fever, there are different types of thermometer you can use:24
Digital. These thermometers are quick and accurate and can be used for taking temperatures orally, rectally and under the armpit.
Ear. These digital thermometers are inserted into the ear and can only be used to take ear temperatures. They can be more expensive than other types of thermometer.
Strip. These are placed against your forehead, and show the temperature of the skin, but not the body. They are not very accurate.
Glass. There are two types of glass thermometers; those that contain a coloured alcohol to measure the temperature, or the more old-fashioned type which contains mercury. The use of mercury glass thermometers is not recommended, as mercury can be highly poisonous.
If you have a fever but are fine in every other way, then you may not need to do anything aside from making sure you are properly hydrated.24,28