Panadol Multisymptom Non Drowsy





Children's Panadol Chewable Tablets
Product

Format

Age

Key Features

Ingredients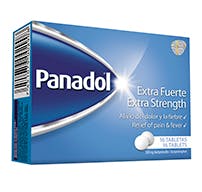 Panadol Extra Strength
Tablets
12+ Years
Fast and effective relief of mild to moderate pain
Active ingredient: Acetaminophen 500mg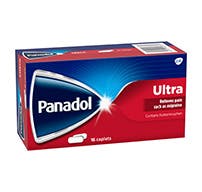 Panadol Ultra
Caplets
12+ Years
Fast and effective relief of tough pain
Active ingredients: Acetaminophen 500mg
Caffeine 65mg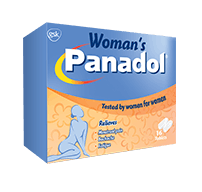 Woman's Panadol
Tablets
12+ Years
Relief of menstrual pain
Active ingredients: Acetaminophen 500mg
Caffeine 65mg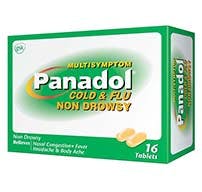 Panadol Multisymptom Non Drowsy
Tablets
12+ Years
Effective relief of the bothersome cold and flu symptoms without causing drowsiness.
Active ingredients:

Acetaminophen 500 mg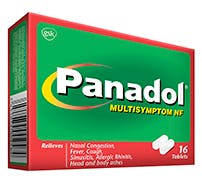 Panadol Multisymtom NF
Tablets
12+ Years
Fights the bothersome cold & flu symptoms, including dry cough
Active ingredients: Acetaminophen 500 mg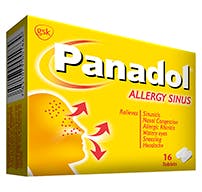 Panadol Allergy Sinus
Tablets
12+ Years
Effective relief of symptoms associated with allergy and sinusitis
Active ingredients:

Acetaminophen 500 mg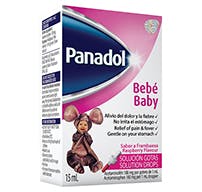 Baby's Panadol Drops
Drops
2 Months-5 Years
Fast relief from pain and fever in babies from 2 months.
Each mL contains: 100 mg acetaminofén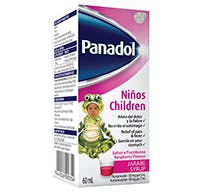 Children's Panadol Syrup
Syrup
1-12 Years
Effective relief from fever and pain in Children's 2 years onwards.
Each 5ml of syrup contains: 160 mg acetaminophen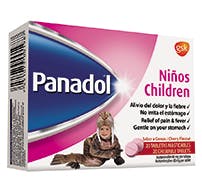 Children's Panadol Chewable Tablets
Tablets
1-12 Years
Effective relief from fever and pain in Children's 2 years onwards.
Active Ingredient: Encapsulated Acetaminophen (92%) 87mg equivalent to 80mg of Acetaminophen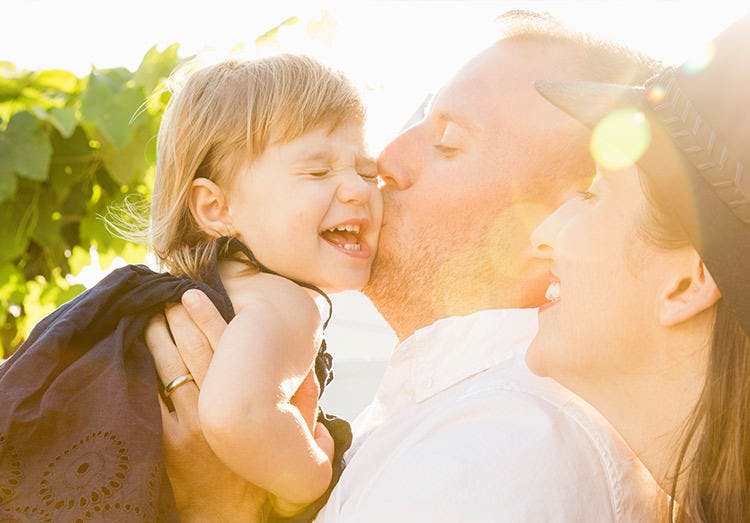 PRIVACY POLICIES AND PANADOL COOKIES
"Cookies" are information sent by a website and stored in the user's browser so that the website can consult the user's previous activity. GSK may install "cookies" in your browser. "Cookies" provide GSK with information related to frequency and use of our website. "Cookies" do not contain personal data.
Use of information, data protection and privacy on the Internet
GlaxoSmithKline (GSK) is concerned for the privacy of visitors to its websites; protection of privacy is extremely important for us. However, please remember that the security of information transmitted over the Internet cannot be assured so you should take the logical, physical and technological necessary provisions to prevent any unwanted invasion to privacy.
No personal identifiable information
GSK collects no personal identifiable information on a cumulative basis, with the only purpose of tracking data such as the total number of visits to our websites, the number of visitors to each page of our websites and domain names of the Internet service providers of our visitors. We use this information, which persists cumulatively, to understand how our visitors use our websites so that we can improve them. We may also share this information with other GSK companies. NO PERSONAL IDENTIFIABLE INFORMATION IS DISCLOSED IN THIS PROCESS.
Through this website, GSK is not collecting any personal identifiable information of its visitors.
Using IP addresses
An IP (Internet Protocol) is a set of numbers that is automatically assigned to your computer whenever you log in to your internet service provider or through your organization's local area network (LAN) or wide area network (WAN). Web servers automatically identify your computer by the IP address assigned to it during your session online.
GSK or third party companies acting on behalf of GSK may collect IP addresses for system administration purposes and to audit the use of our site. Normally, we do not link an IP address of a user with its personal identifiable information, which means that each user session will be logged, but the user remains anonymous to us. However, we may use IP addresses to identify users of our site when we feel it is necessary to enforce adherence to the terms of use of the site, or to protect our service, our site or other users.
Links to other websites
GSK websites provide links to other GSK and third parties websites, as a service to our users. The privacy policy described here does not apply to those sites. Please be sure to review the legal and privacy policy sections of any site you linked with.
GSK Cookies may place a "cookie" in your computer's browser. "Cookies" are small text files that provide us information about how often someone visits our site, and what do they do during those visits.
You have the power to accept or decline cookies. Most web browsers automatically accept cookies, but you can usually modify your browser settings to decline cookies, or receive a warning before a cookie is stored, if you prefer. Please refer to your Internet browser instructions or the help screen to learn more about these functions. If you choose to decline "cookies", you may not be able to fully experience the interactive features of this or any other websites you visit.
If you want to disable GSK's capacity to track your website's interactions, visit http://www.omniture.com/en/privacy/ and follow the Refusing Policy instructions. The refuse process will require you to enable a cookie on your computer that indicates that you do not want to be tracked by GSK. If you remove cookies from your computer, tracking will resume.
Changes
Any change to this policy will be communicated on this page. We urge you to periodically review this Privacy and Cookies Policy as it may occasionally be updated. Your continued use of this site constitutes your agreement to the Privacy & Cookies Policy and any updates.
Updated on Novembre, 2013.
Panadol.com Documento de Copia Global