COMPARE OUR PRODUCTS
SEE SIDE-BY-SIDE WHAT PANADOL PRODUCT IS RIGHT FOR YOU AND YOUR FAMILY.
Headache,Toothache,
Migraine,Fever,
Period Pain,General
The active ingredients in Panadol Extra provide upto 37% more powerful pain relief than standard paracetamol

Starts to release its medicine in as little as 5 minutes

Absorbed twice as fast as standard paracetamol tablets

Headache, Period Pain,
Backache,General
Provides pain relief so you can have a good nigh'ts sleep

Joint Pain,
Pain of Osteoarthritis
Provides long lasting relief from joint pain for upto 8 hours

Panadol Cold + Flu Day
Remove
Day time relief from cold and flu symptoms

Panadol Cold + Flu
Remove
Night time relief from cold and flu symptoms

Panadol Cold + Flu All in One
Remove
Provides relief from cold & flu symptoms and chesty cough

Panadol Cold + Flu Hot Lemon & Honey
Remove
Fast acting relief from cold and flu symptoms

Provides relief from sinus pain, nasal congestion and headache

Panadol Baby & Infant
Remove
Toothache, Fever, General
Effective relief from pain and fever for children, 3 months to 5 years
Children's Panadol (5-12 years) Elixir
Remove
Toothache, Fever, General
Effective relief from pain and fever for children, 5 to 12 years

Migraine, Headache, A cold, Arthritis, Muscular aches, Sinusitis, Toothache, Premenstrual and menstrual cramps
Works to relieve Migraine pain in 30 minutes*
*post dose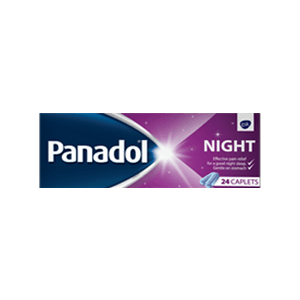 Panadol Night
Panadol Night provides night time relief when when you have pain such as headache, migraine, backache, rheumatic and muscle pain, toothache or period pain.
Overview:
Panadol Night contains two active ingredients, Paracetamol which is an analgesic (a pain reliever which relieves aches) and antipyretic (reduces body temperature when you have a fever) and Diphenhydramine hydrochloride, an antihistamine with additional sedative properties.
Directions:
Adults and children of age 12 years and over
Take 2 tablets 30 minutes before bed time
Do not exceed stated dose.
Do not take more than 2 caplets per night
Do not take for more than 10 consecutive nights without consulting a doctor.
Other products containing paracetamol may be taken during the day but the total daily dose of paracetamol must not exceed 4000mg (including this product) in any 24 hour period.
Further doses of paracetamol should not be taken within 4 hours of a dose of Panadol Night.
Active Ingredient:
Each tablet contains:
Paracetamol 500mg
Diphenhydramine hydrochloride 25mg
Warnings & Precautions (see label for full list)
WARNING: May cause drowsiness. If affected, do not drive or operate machinery.
Do not take if you have Hypersensitivity to paracetamol, diphenhydramine, or any other ingredient in this product
Should not be used with other antihistamine-containing preparations, including those used on the skin
Medical advice should be sought before use in:
Patients who have been diagnosed with liver or kidney impairment
Patients with epilepsy or seizure disorders, myasthenia gravis, narrow-angle glaucoma, prostatic hypertrophy, urinary retention, asthma, bronchitis and chronic obstructive pulmonary disease (COPD).
In patients with glutathione depleted states such as sepsis, the use of paracetamol may increase the risk of metabolic acidosis.
May increase the effects of alcohol; therefore, alcohol should be avoided
Concurrent use of drugs which cause sedation such as tranquillizers, hypnotics and anxiolytics may cause an increase in sedative effects therefore medical advice should be sought before taking diphenhydramine with such medicines
Avoid use with other antihistamine-containing preparations, including topical antihistamines and cough and cold medicines.
Use with caution with monoamine oxidase inhibitors (MAOIs) or within 2 weeks of stopping an MAOI
Use with caution with other drugs with antimuscarinic properties (e.g. atropine, tricyclic antidepressants
Use with caution in the elderly, who are more likely to experience adverse effects.
Avoid use in elderly patients with confusion.
If symptoms persist, medical advice must be sought.
Keep out of sight and reach of children.
For full information about the product,refer to the product insert leaflet.