COMPARE OUR PRODUCTS
SEE SIDE-BY-SIDE WHAT PANADOL PRODUCT IS RIGHT FOR YOU AND YOUR FAMILY.
Headache,Toothache,
Migraine,Fever,
Period Pain,General
The active ingredients in Panadol Extra provide upto 37% more powerful pain relief than standard paracetamol

Starts to release its medicine in as little as 5 minutes

Absorbed twice as fast as standard paracetamol tablets

Headache, Period Pain,
Backache,General
Provides pain relief so you can have a good nigh'ts sleep

Joint Pain,
Pain of Osteoarthritis
Provides long lasting relief from joint pain for upto 8 hours

Panadol Cold + Flu Day
Remove
Day time relief from cold and flu symptoms

Panadol Cold + Flu
Remove
Night time relief from cold and flu symptoms

Panadol Cold + Flu All in One
Remove
Provides relief from cold & flu symptoms and chesty cough

Panadol Cold + Flu Hot Lemon & Honey
Remove
Fast acting relief from cold and flu symptoms

Provides relief from sinus pain, nasal congestion and headache

Panadol Baby & Infant
Remove
Toothache, Fever, General
Effective relief from pain and fever for children, 3 months to 5 years
Children's Panadol (5-12 years) Elixir
Remove
Toothache, Fever, General
Effective relief from pain and fever for children, 5 to 12 years

Migraine, Headache, A cold, Arthritis, Muscular aches, Sinusitis, Toothache, Premenstrual and menstrual cramps
Works to relieve Migraine pain in 30 minutes*
*post dose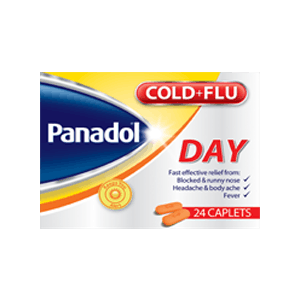 Panadol Cold + Flu Day
Overview:
Panadol Cold + Flu Day caplets provide relief from Major Cold and flu symptoms. It is a non- drowsy formulation for day time relief
Panadol Cold + Flu Day caplets can be used for:
Blocked and runny nose
Headache and body ache
Fever
Active Ingredient
Each caplet contains:
Paracetamol = 500 mg
Caffeine = 25 mg
Phenylephrine Hydrochloride=5mg
Directions
How to use Panadol Cold+Flu Day:
Adults + children over 12 years
1-2 tablets
Every 4-6 hours, with a maximum of 4 doses in 24 hours if needed Minimum dosing interval: 4 hours Do not take more than 8 tablets in 24 hours Do not take longer than 7 days without asking your doctor Do not give to children under 12 years of age
Warnings & precautions (see label for full list)
Do not use if you have known or previous history of hypersensitivity to paracetamol, Caffeine, phenylephrine, or any other ingredient in this product
Do not use if you are taking, or have taken, within the last two weeks, monoamine oxidase inhibitors
Do not use with other paracetamol-containing products, decongestants, or cold and flu medicines.
Seek medical advice before taking this product if:
You have Hypertension, Cardiovascular Disease, Diabetes, Hyperthyroidism, Angle closure glaucoma,Phaeochromocytoma, An enlargement of the prostate gland,Occlusive vascular disease (e.g. Raynaud's Phenomenon),Liver and kidney impairment, glutathione depleted states such as sepsis
You are taking beta-blockers and other antihypertensive drugs or tricyclic antidepressants
This product should not be used by patients taking other sympathomimetics (such as decongestants, appetite suppressants and amphetamine-like psychostimulants)
Excessive intake of caffeine (e.g. coffee, tea and some canned drinks) should be avoided while taking this product.
If symptoms persist, consult a doctor
Keep out of sight and reach of children.
Storage:
Store below 25˚C
ALWAYS READ THE LABEL. Use only as directed. For the temporary relief of cold and flu symptoms. Incorrect use could be harmful. Consult your healthcare professional if symptoms persist.
For full information about the product,refer to the product insert leaflet.